UV Protection Factor (UPF) certification for the real world.
With the right materials and design, clothing and sunshades provide much more effective UV protection than even the strongest sun creams, and they don't wear or wash off of the user.
Hohenstein is a founding member of the International Test Association for Applied Protection against UV Radiation, which launched the UV STANDARD 801, a certification and product label for textiles that offer reliable UV protection. Unlike other standards, UV STANDARD 801 considers how the textile stretches when worn, the dampness of the material (for example, caused by swimming or sweating) and the unavoidable aging of textile products due to wear, weather and cleaning. Measurements of UV protection that assess goods only in their new condition are less meaningful.
What makes the UV STANDARD 801 different?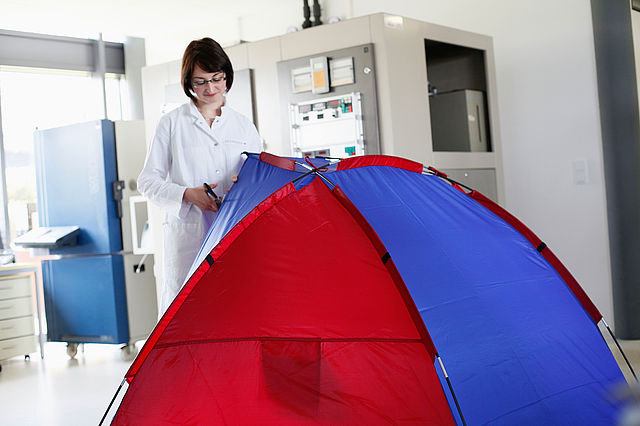 To determine a reliable Ultra Violet Protection Factor (UPF), every factor that plays a role in the use of textiles must be considered. UV STANDARD 801 uses the most stringent criteria based on a simulation of the most realistic conditions possible. It includes:
A worst-case scenario (maximum UV ray intensity based on the solar spectrum used by Australian/New Zealand standards and the most sensitive skin type)
Validated measurement procedures for simulating typical usage conditions (soaked clothing, weatherd sunshade material, stretched material, aged textiles based on rubbing and wash cycles)
Ultra Violet Protection Factor (UPF)
The determined UPF is used as a multiplier for the natural protection time, based on skin type, and indicates how long the textile lets you stay out in the sun while effectively protecting your skin from damage. The following UPF can be achieved in accordance with the UV STANDARD 801 and marked on the label: e.g. 10, 15, 20, 30, 40, 60, 80.