UV protection cannot be determined by visual examination or feeling the material. Nor can UV protection effect be reliably calculated without considering use conditions.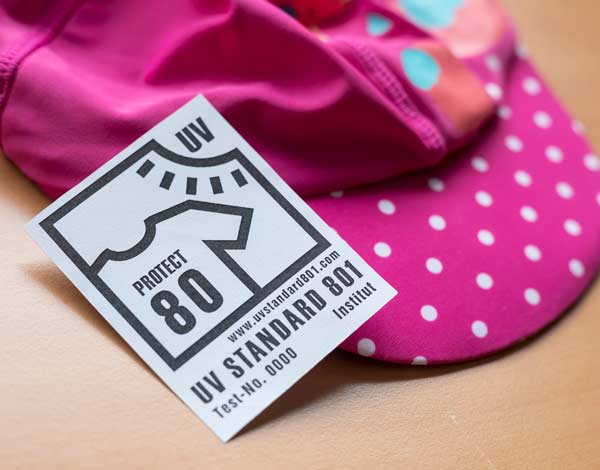 UV STANDARD 801 is an independent label that shows reliable proof of protection against UV radiation and the tested sun protection factor (UPF = Ultraviolet Protection Factor).
Unlike other standards, UV STANDARD 801 considers how the textile stretches when worn, the dampness of the material (e.g. caused by swimming or sweating) and the aging of textile products due to wear, weather and washing.
UV STANDARD 801 calculates UPF based on the worst-case scenario for the solar radiation and human skin type.
What makes UV STANDARD 801 different?
To determine a reliable Ultraviolet Protection Factor (UPF), every factor playing a role in the use of textiles must be considered.
UV STANDARD 801 uses the most stringent criteria based on a simulation of realistic conditions:
Maximum UV ray intensity based on the Australian/New Zealand solar spectrum
(Solar radiation on January 1 in Melbourne, at the peak of the Australian summer)
Assumption of most sensitive skin type
Testing of product in new condition
Validated measurement procedures for simulating typical usage conditions (soaking, weathering, stretching, aging, abrading, cleaning, washing)
Ultraviolet Protection Factor (UPF)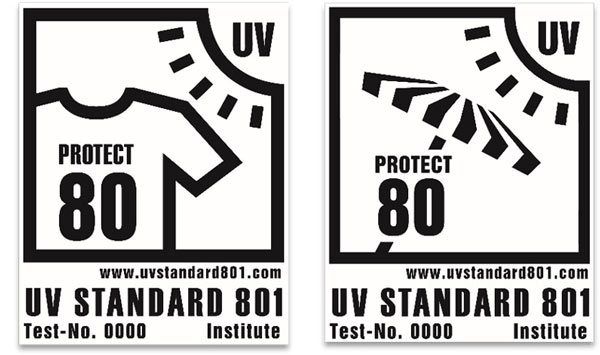 UPF is used as a multiplier for natural protection time, based on skin type, and indicates how long the textile lets you stay out in the sun while effectively protecting your skin from damage.
For UV STANDARD 801, the following UV protection factors (UPF) can be achieved and marked on the label: 10, 15, 20, 30, 40, 60, 80.