Perfect fit requires knowledge of body sizes and shapes.
Hohenstein has experience.
Hohenstein has been conducting anthropometric studies for almost 60 years - previously with a measuring tape, but since 1999 using state-of-the-art 3D scanner technology. With 3D body scans, real body shapes can be visualized and reliable size tables developed for each target group. Benefit from years of experience in 3D technology, fit and pattern.
We partner with manufacturers, brands and retailers on customized projects, including 3D visualization of specific customer groups. We not only record the body data in 3D, we also help you to convert it into a perfect fit and consistent sizing.
Size advice
Customized size tables for standard and special target groups
Information based on Hohenstein's database of over 80,000 scans (all ages - USA and Germany)
3D visualization of body shapes for reliable fit and pattern
3D models as the basis for construction, simulation and busts: bodies, hands, feet, heads
Hohenstein 3D services and expertise
3D simulation of fit
Testing shaping effects based on 3D body scans
Body movement measurements for fit in motion
Customized 3D body, head, foot and hand models
3D testing and optimization of ergonomic comfort
Series measurements and measurement studies
Optimization and development of customized size tables
Size concepts for made-to-measure clothing, online, shipping and textile rental
Impact check of sports bras: Testing of the support function of sports bras in motion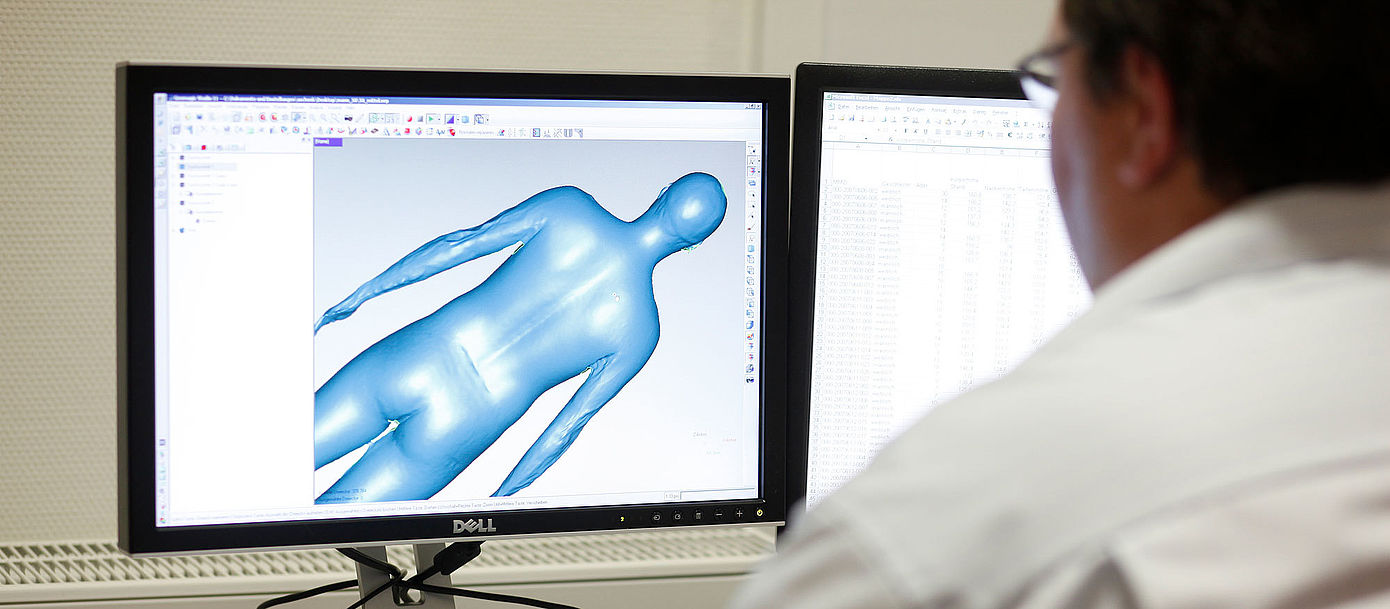 Customized 3D development projects
While fit testing on human subjects is still indispense, 3D technologies are valuable for an optimized product development process:
Based on the 3D body data, we analyze the body shapes of your customer group, advise on the size designation and adapt and optimize size tables for your customer group
In combination with test fittings with human subjects, we check forming properties of shapewear based on 3D body scans. The results give comprehensive information about shapewear effectiveness
We use 3D scanning to see fit and range of motion during movement to optimize the ergonomic comfort of workwear and sportswear
Fit in motion is important. For example, the functionality and impact of sports bras is analyzed statically and in motion. In addition, our experts have developed a method to determine the pressure load that a bra strap exerts on the shoulder
With the help of our 3D simulation systems, you can virtually try clothing products on realistic body shapes. Your benefit: an accelerated product development process and reduction or elimination of prototypes.