Even the strongest cosmetic sunblock offers a maximum Ultraviolet Protection Factor (UPF) of 50. What's more, for long-lasting protection, it must be applied several times and used correctly: 30 minutes before sun exposure and reapplied after being washed or rubbed off.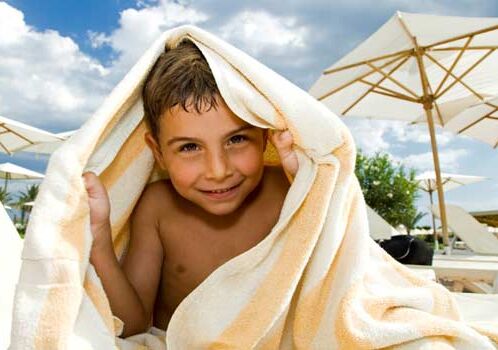 Ultraviolet Protection Factor (UPF) - Background
Certain people and situations require special attention.
Children and young people (especially under age 15)
People frequently working or active outdoors
Elderly or sick people
Repeated or prolonged sun exposure
Current UV Index (UVI): higher number = higher risk
Midday exposure - when is generally strongest
Particular environments, e.g. in or on water, on snow, between mountains
Higher Ultraviolet Protection Factor (UPF) means lower transmission of UV radiation to the skin.
Factor calculation considers the solar spectrum, typical skin reddening, etc., not just the pure measurements.
Individual skin type affects protection time.
Protection against UV radiation varies by method.
UPF calculations depend on the standard that is used.
We determine the UPF for textiles using spectroscopy based on different regulations and then certify according to the results.
UV STANDARD 801: UPF 10, UPF 15 UPF 20, UPF 30, UPF 40, UPF 60 and UPF 80
AS/NZS / 4399: UPF 15, UPF 30, UPF 50 and UPF 50+
DIN EN 13758-1: UPF 15, UPF 30, UPF 50 and UPF 50+
DIN EN 13758-2: UPF 40+
AATCC TM 183: UPF 15 (good), UPF 30 (very good), UPF 50 andUPF 50+ (excellent)
Tested and proven protection.
We test, develop and certify UV protective textiles to these international standards:
For the UV STANDARD 801, we consider important aspects of use, including stretching of the textile, wetting of clothing, weathering of shading textiles, aging by certain abrasion and washing cycles and many more. We also assume maximum radiation intensity with the solar spectrum in Melbourne, Australia on January 1st (peak of the Australian summer).
Consumers cannot judge a product's effectiveness against UV rays by sight or touch. Based on standardized measurement procedures and neutral testing, we assign comparable and reliable values for the UV protection of garments or shades. We also offer certifications and product labels based on international standards.
Optimize material or design for max UV protection.
In addition to consumer safety and claim verification, Hohenstein tests the UPF for product and material optimization during development.
Standard or customized testing can be used to consider all situations (e.g. industrial laundering, washing procedures for shades, PPE, body coverage requiremnets, pre-treatments, etc).
Textile UV protection during welding processes.
Skin is also damaged by artificial UV radiation. To specify the UV protection factor of protective clothing for welders, for example, we calculate the UV transmission for personal protective equipment, which can then be used to determine the maximum usage duration of the textiles in the respective welding process.
In the EU, any UV protective clothing is considered PPE, which must also carry a CE Mark. The CE mark requires protection of skin and eyes from UV-A and UV-B rays.