Even the strongest cosmetic sunblock offers a maximum Ultraviolet Protection Factor (UPF) of 50. What's more, for long-lasting protection, it must be applied several times and used correctly: before sun exposure and reapplied after being washed or rubbed off.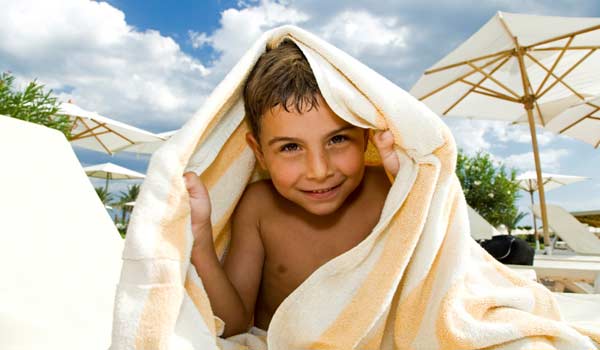 In comparison, clothing and shading textiles are ideal for practical protection that far exceeds the maximum UV protection factors (UPF) of the strongest sunblock cream. Depending on the design, textiles can achieve an ultraviolet protection factor of up to UPF 80, meaning the wearer can stay protected in the sun for up to 80 times longer than the intrinsic protection time allows (dependent on skin type).
Consumers cannot judge a product's ability to protect against UV rays by sight or touch. Based on standardized measurement procedures and neutral testing, we assign comparable and reliable values for the UV protection of garments or shades. We also offer certifications based on international standards, with the Hohenstein Quality Label or UV STANDARD 801 label for consumer communication.
Tested and proven for safety.
We test according to various international standards and award the Hohenstein Quality Label.
American (AATCC TM 183): textiles in new condition under the Albuquerque, New Mexico solar spectrum
Australia-New Zealand (AS/NZS 4399): new, unstretched and dry textiles under the Melbourne, Australia solar spectrum on January 1st
European (DIN EN 13758-1): new, unstretched and dry textiles under the Albuquerque, New Mexico solar spectrum
For the UV STANDARD 801, we consider important aspects of use, including stretching of the textile, wetting of clothing, weathering of shading textiles, aging by certain abrasion and washing cycles and many more. We also assume maximum radiation intensity with the solar spectrum in Melbourne, Australia on January 1st (peak of the Australian summer).
Optimize material or design for max UV protection.
In addition to consumer safety and claim verification, Hohenstein tests the UPF for product and material optimization during development.
Ultraviolet Protection Factor Background
Textile UV protection during welding processes.
UV Protection and the EU PPE Directive