Responsive and responsible chemical management.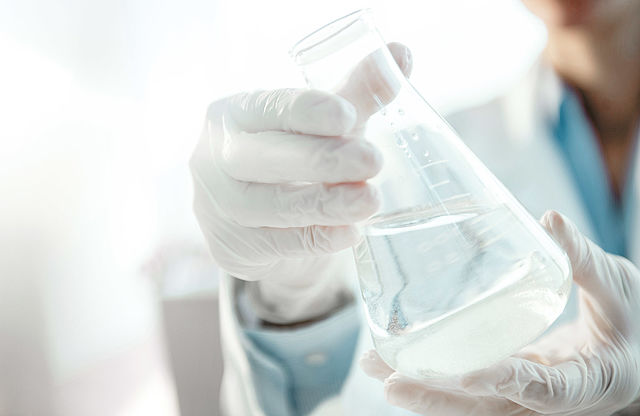 Regulations and initiatives change as rapidly as trends in this industry, especially with regard to substances that harm humans or the environment. Companies are required to constantly monitor and implement these changes in responsible chemical management systems. Brands and retailers enforce their own restricted substance lists (RSLs).
ECO PASSPORT by OEKO-TEX® gives textile and chemical manufacturers a trustworthy solution for choosing chemicals responsibly and credibly communicating their efforts.
Welcome to Greener Chemistry.
ECO PASSPORT by OEKO-TEX® is an independent and standardized testing and certification system for chemicals, colorants and auxiliaries used to manufacture textiles and leather. A three-stage verification process analyzes whether the chemical products and their ingredients meet specific requirements with regard to sustainability, safety and compliance with statutory regulations.
All about ECO PASSPORT by OEKO-TEX®
3 Stage Certification Process
3 step certification process with feedback for improvement
Step 1: a comparison of the ingredients in the chemicals with the OEKO-TEX® list of harmful chemicals based on their CAS numbers.
Step 2: analytical testing in our laboratory to ensure that the certified products can be used for the sustainable production of textiles that are optimized for human ecology.
Step 3: (currently optional) review of the responsibility the chemical manufacturer takes for the product – measures relating to working conditions and environmental management (evaluation and audit).
ECO PASSPORT Integration with Other OEKO-TEX® Certifications
Any manufacturer of textile or leather chemicals can apply for ECO PASSPORT certification. ECO PASSPORT is suitable for all chemicals products (chemicals, colorants and auxiliaries) and their formulations that are used in the textile, leather, apparel, footwear, home textiles or similar sectors. Wholesalers and resellers of chemicals can also apply for certification, although separate conditions apply.
An ECO PASSPORT certificate is valid for one year. By signing the declaration of conformity in the application, the applicant authorizes the OEKO-TEX® Association to perform control tests on its certified products during the period that certificate is valid. You can apply to renew the certificate up to three months before it expires.
Disclosed is usually not the same as reality.
An approach to cover more chemicals - disclose more, test less.
Certificate and Product Label
ECO PASSPORT Options - ZDHC Integration
Both options come with listing in the OEKO-TEX® Buying Guide and use of the ECO PASSPORT by OEKO-TEX® product label.
Option 1 allows ZDHC Gateway listing at level 1.
Option 2 adds the product stewardship audit for ZDHC Gateway listing at level 3.
ECO PASSPORT certification facilitates the choice of chemicals that are safe for human ecology and the environment
Responsible chemical managers have reliable contol over substances before being production
3rd party certification ensures that confidential product data is protected while providing the transparency the market demands.
The ECO PASSPORT certificate ensures that legal requirements are met
Feedback built into the three-stage process means improvements can be implemented at each stage to avoid extra analysis costs
ECO PASSPORT integrates seamlessly into the modular STANDARD 100 system and is perfectly aligned with the STeP certification for environmentally friendly production facilities
The ECO PASSPORT certificate ensures ZDHC (Zero Discharge Hazardous Chemicals) conformity (level 1 or 3)
ECO PASSPORT Downloads and Application