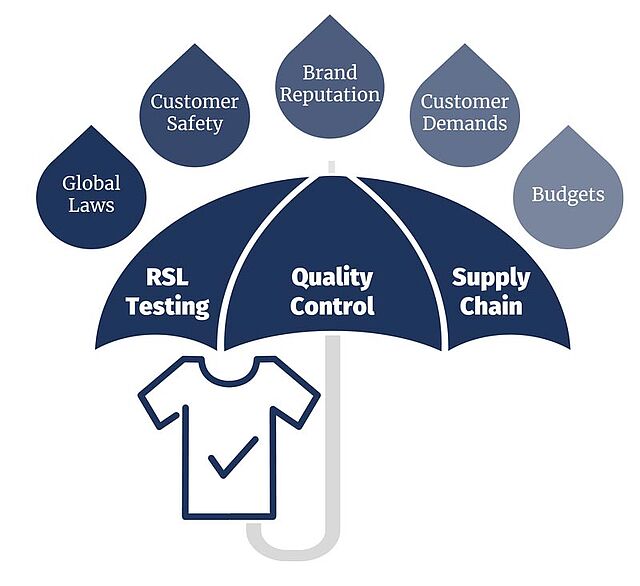 Manage restricted substances.
Testing programs should:

Align quality with target group expectations
Fulfill legal requirements
Fit your budget AND your appetite for risk
Leverage existing certifications

One size does not fit all products or suppliers.
Hohenstein Strategic Product Testing
Our global experts develop testing plans based on specific product needs and supply chain risk.
Tests for Harmful Substances
We test to several RSLs/MRSLs, including:
Proprietary RSLs/MRSLs - (individual/independent)
Testing textiles, leather, chemicals, accessories, trims, finished goods, wastewater, etc. to restricted substance lists/manufacturing restricted substance lists
CPSIA - CPSC - (Consumer Product Safety Improvement Act - Consumer Protection Safety Commission)
Accredited testing lab for compliance with the U.S. regulations for lead, phthalates, toy safety, products for infants and toddlers and other product safety measures
Prop 65 (California Proposition 65 - Safe Drinking Water and Toxic Enforcement Act of 1986)
Testing services for legal and warning requirements around exposure to chemicals known to cause cancer, birth defects and other harms
REACH - ECA - (European Chemicals Agency)
Testing for compliance with EU regulations that aim to protect consumers through increased testing for SVHCs (substances of very high concern) and labeling requirements in CLP (classification, labeling and packaging)
Green Button - BMZ (Grüner Knopf - German Federal Ministry for Economic Cooperation and Development)
Accredited certification body for sustainably manufactured textiles in line with due diligence obligations, including the MRSL
Industry Initiatives & Certifications
Consistent high standards across all our laboratories.